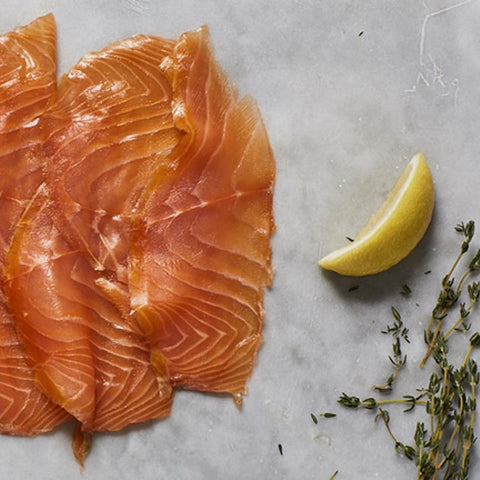 Secret Smokehouse
PGI Status London Cure Smoked Salmon
1 pack - 100g or 200g
Secret Smokehouse's PGI status 'London Cure Smoked Salmon' is the right amount for snacking, starters or a weekend breakfast. Great served with scrambled eggs and some freshly sliced brown bread. The salmon is sourced from the most-renowned Scottish sustainable farms and is never frozen. No colouring agents, nitrates or any form of artificial preservatives are ever used and the fish are also not fed GM food

Last but no means least, the production is entirely by hand, based on a traditional artisan approach so much so that the producers were awarded a Protected Geographical Indicator [PGI] certification. That's major!

Country of Origin - London, Hackney
Keep refrigerated, suitable for home freezing.
Consume within 3 days of opening the pack. Do not exceed the use by date.
Image shows 200g
Ingredients - RSPCA High Welfare Certified Scottish Farmed SALMON [FISH] (Salmo salar) 97%, Salt 3%